SUMMARY
Ukrainian Karbowaniec (ukr. ruble) - monetary unit of Ukraine in the years 1918-1920, 1942-1944 and 1992-1996. In view of the economic reforms in 1996 year, has been replaced by - Ukrainian grivna (UAH). Ukrainian Karbowaniec has: ISO code 4217: UAK and was issued by the National Bank of Ukraine. Part of that was produced in France in the early 90. Twentieth century, and by the National Mint of Ukraine. Ukrainian hryvnia would be introduced even in 1992 year. Was delayed with the introduction of the printed and embossed already 1992 year and stored hryvnia and kopijek, due to economic instability in Ukraine and increasing hyperinflation.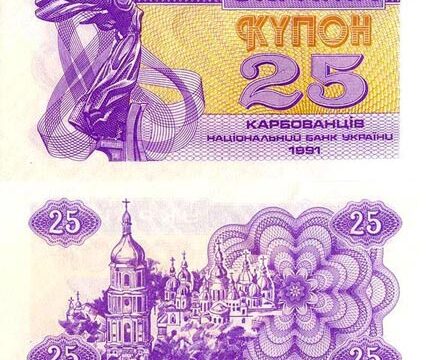 If you are looking for something similar, check RELATED ENTRIES at the end of this article.
CATEGORY OF ARTICLE: Articles, History February 25, 2011, 10:47
The first time the name "karbowaniec" applied to the Russian ruble in the reign of Tsar. It was a Ukrainian name (version name) "Russian ruble / carskiego". Similarly, a name applied to karbowaniec Soviet ruble.
Ukrainian Karbowaniec (ukr. ruble) performed in:
1. The Ukrainian People's Republic (1918-1920);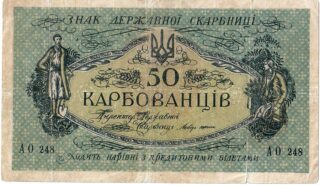 While the existence of the first Ukrainian republic (Ukrainian People's Republic of), piewszy time in the history of Ukraine, introduced / issued an independent currency - karbowańce. Karbowaniec divided into 100 kopijek and was in circulation to 1920 year.
2. Police Station Of Ukraine (1942-1944);
During the German occupation during World War II, Reich Commissariat Ukraine in (Reichskommissariat Ukraine, 1941-1945), in years 1942-1944 produced and broadcast notes called "karbowanez", which was the phonetic transfer of Ukrainian names in German. It emits the Central Issuing Bank of Ukraine (Zentralnotenbank Ukraine) in the capital of the Reich Commissariat Ukraine, which was in Rivne Volhynia. Then the notes were in circulation by denomination: 1, 2, 5, 10, 20, 50, 100, 200, 500. They were interchangeable with respect to reichsmarki: 1 Reichsmark to 10 karbowańców.
3. In the Soviet Union in the form of billet "kupona" (during the late Soviet);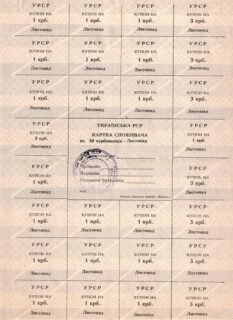 During the late Soviet, during severe economic problems in the "declining red empire" - were in circulation: coupons in denominations of 50 karbowańców, which had to be cut with scissors from a large blabkietu / Cards. In order to pay for products and services.
4. Ukraine (1992-1996).
After the collapse of the USSR, in 1992 year, New banknotes were produced in France, on request of the National Bank of Ukraine and have ISO code 4217: UAK. Karbowańce issued in Independent Ukraine (UAK), wyspępowały years 1992-1996 in denominations: 1, 3, 5, 10, 25, 50, 100, 200, 500, 1 000, 2 000, 5 000, 10 000, 20 000, 50 000, 100 000, 200 000, 500 000, 1 000 000 i don't have the coins / bilonu (kopijek). The first banknotes in denominations of 1 until 100, which were produced in France had no security and watermarks. Do not even have the serial number and quickly underwent mechanical damage. Notes made in subsequent years, already had the serial numbers and were more resistant to destruction.
Finally, in 1996 karbowańce years have been converted by the Ukrainian hryvnia. Currently, they are rarely seen, because they were removed from circulation and destroyed. Often they can be found in private collections, humans kolekcjonujących banknotes and coins. Some people keep them as a memento of the past, unstable and the transition past the Ukrainian State.
ARTICLE TAGS
COMMENTS TO THE ARTICLE
THERE ARE COMMENTS
WE APPRECIATE YOU COMMENTS (SOME TRANSLATED FROM POLISH)
PLEASE WRITE YOUR COMMENT
SHARING WITH US YOUR THOUGHTS

About Site
NieznanaUkraina.pl
For trips to Ukraine we wish
happy reading about Ukraine, We encourage you to actively comment! About page
Comments
SEARCH
ON WEBSITE
To see the contents of the, Click on the relevant section below:
You can receive information about new articles on email:
Subscribe to our newsletter by mail on FeedBurner
POPULAR
Articles, that read the most times
WHAT CAN BE TRANSPORTED BY ...
: 153,087
UKRAINIAN LARD: SAŁO..
: 75,154
UKRAINIAN CIGARETTES AND YOU ....
: 63,501
BY TRAIN VIA UKRAINE: ...
: 60,321
UKRAINIAN LANGUAGE and ALPHABET
: 56,427
NATIONAL SYMBOLS OF UKRAINE
: 51,556
POLAND - UKRAINE BORDER
: 40,032
EXCHANGING CURRENCY IN UKRAINE
: 37,684
THE PURCHASE OF RAILWAY TICKETS ...
: 36,044
BEFORE YOU TRAVEL
: 31,096
MOBILE IN THE UK..
: 29,175
HOLIDAYS IN UKRAINE
: 29,065
FAMOUS UKRAINIANS
: 26,798
A TRIP THROUGH MEDYKA : 1ST...
: 25,701
CRIMEA : AUTONOMOUS REPUB ....
: 24,826