SUMMARY
Located in southern Ukraine, the Crimean Peninsula, washed from all sides by Black and Azov seas is connected by the narrow isthmus (pass) with Ukraine. It is a unique place, with diverse flora and fauna, diversity of landscapes, cultures and history. In total covered with the Autonomous Republic of Crimea, Ukrainian peninsula is worth to visit and admirable ! It include various geographical zones, climatic and cultural, and historical land. Here live side by side for centuries: Tartarus, Ukrainians, The Russians and the Caucasian population. Even before our era, these were the areas of colonial dependence of Greece, from Byzantium in the Middle Ages. Colonies of Genoa functioned well here and other maritime powers of Europe, and the Crimean Khanate and the end of the Empire of Russia, Soviet Union and Ukraine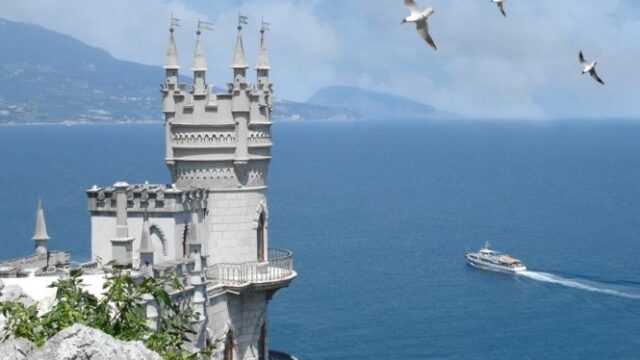 If you are looking for something similar, check RELATED ENTRIES at the end of this article.
CATEGORY OF ARTICLE: Articles, Geography , Featured March 15, 2014, 10:00
Autonomous Republic of Crimea
Autonomous Republic of Crimea - Ukr. Автономна Республіка Крим or in Crimean-tartar: Qırım Muhtar Cumhuriyeti - this is an administrative unit of Ukraine, which, unlike from regions, have greater autonomy in the: self-government, culture, tourism, ecology, water management and education. In other spheres of activity of the Ukrainian State - is a fully integral, and depends on Ukraine (Ukraine is a unitary state).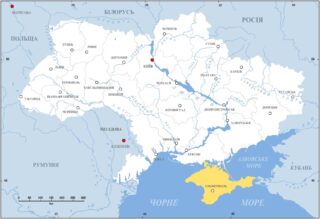 In 2010 I left on the peninsula for several weeks, I did then some pictures, so I recommend to read "Expedition to the South Quay near the Crimea".
Crimean peninsula - has a complex history and cultural relations within a society which inhabits this beautiful corner of Ukraine. The whole peninsula can be divided into two parts: Crimean steppe and Crimean mountainous !
Steppe Crimea - A flat plain, steppe, hills not exceeding a few hundred meters. It has a dry climate, moderate. Covered with steppe vegetation, has a large number of naturally saline land. There is a large deficit in fresh water as well as large fluctuations in temperature during the year !
Crimea mountainous - Is completely different. It consists primarily of calcareous / Cretaceous Crimean Mountains resulting from the Mesozoic Era from Alpine orogeny. Northern slopes of the mountains exhibit features a dry climate, mountain, moderate, while Southern - Mediterranean features, moist and warm!
South shore of Crimea - Is a paradise for tourists ! Picturesque mountain slopes monumentally falling towards the Black Sea, fruit orchards, vineyards, resort cities, warm sea and the deep blue and green !
BLACK SEA:
This is a shelf, inland sea area 422 k. sq km and a maximum depth of 2258 m. The average depth is about 1315 m, salinity 18,3 – 22,5 per mille. In summer the water temperature can reach 29 ° C. The name comes from hydrogen sulfide water on the black coloring. Black Sea is the world's largest anaerobic water reservoir !!! What causes a relatively large deficit of flora and fauna. In the sea lives different industrial fish species, dolphins, Black sea shark , and numerous shellfish, jellyfish, crabs and crayfish.
On the southern coast of Crimea intensively developed tourism - Crimean Mountains represent a barrier for air masses coming from the north, resulting in the creation of unique hot and humid Mediterranean climate on the southern slopes of the mountains: Yalta, Ałupka, Alushta, Gurzuf, Sudak and other !!
AZOV SEA:
One of the Europe's smallest seas, an area of 37 605 km ². It is a shallow inland sea with a maximum depth of only 15,3 m !! Average depth 7 m ! Due to the large shallow water during the summer heats up to 27 ° C, which is very conducive to the development of tourism, especially youth. Numerous small hotels and guest houses on the shore of the Azov Sea in Zaporizhia, and Donetsk regions - the beaches are sandy, or "shell" (composed of shell detritus), climate temperate-sea. In this shallow sea lives unique fish species from family sturgeon, from which acquires "black caviar" ! The sea is surrounded by large industrial centers and ports, and is also carried out intensive freight shipping, so the tourists functions do not grow as rapidly as in the Black Sea.
CRIMEAN TATARS:
Crimean Tatars, (ukr. Кримські татари), and in the Crimean-Tatar: Qırımtatarlar ! This is a nation, which historically has been at the Crimea. They live mainly in the Crimea, where their number is about 260 k. residents. Unlike the Ukrainians and Russians, consider themselves the indigenous inhabitants of the peninsula - hence have a high claim to the territory, and also one of the official languages ! Use the Crimean Tatar language and profess Islam. Formed in the fifteenth century, independent and powerful State - Crimean Khanate, that most of the time of its existence - was a vassal of the Turkish Empire.
Chanat Krymski / Qırım Yurtu, it was a feudal state, existing in the fifteenth to the eighteenth century, on the Crimean peninsula. Was governed by the Tartar Khans, sitting in the capital of Crimean Khanate - Bakhchysaray.
SIMFEROPOL INTERNATIONAL AIRPORT:

International airport "Simferopol" (ukr. Міжнародний аеропорт «Сімферополь»), This is the main international airport on the peninsula of Crimea (45° 3 '8 "N, 33° 58 '31 "E ). Has the IATA code: SIP, ICAO Code: UKFF, this is a civil airport serving Continental aircraft, large and medium-range - has a concrete runway with a length - 3 706 m. In 2008 year, according to government statistics served here 850 k. passengers !! It is twice more than at the airport in Lviv !
The official website of the airport in Simferopol:
Weather and atmospheric conditions at the airport in Simferopol:
http://weather.noaa.gov/weather/current/UKFF.html
History and geography of airport in Simferopol:
http://aviation-safety.net/database/airport/airport.php?id=sip
Willing to visit the Crimea can use the airline, which run regularly from different cities of Ukraine and Europe. A detailed timetable, ticket prices and the possibility of booking and purchasing - you can get on the official website of the airport !!!
CRIMEAN TROLLEYBUS:
"Crimean Trolleybus" - is a unique on Europe scale network of trolleybus lines connecting the capital of the Autonomous Republic of Crimea, Simferopol – with the resorts: Yalta and Alushta, located on the Black Sea on the southern shore of Crimean Peninsula.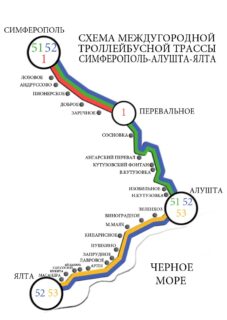 In 1958 the decision was made the Government of the USSR, to build green, intercity, regional, mountain trolleybus line, which connected Simferopol and Yalta. Electrical transport not emitted gases, was quiet and ecological. This was conducive to a good promotion of the region in the Soviet era.
The length of the line between the cities is about 86 km (bypassing urban lines). The total number of trolleybus lines is 19 (cities: Yalta, Simferopol and Alushta), of which 5 lines are inter-city.
In addition to the above-mentioned cities, "Crimean Trolleybus" functions on the streets of: Sevastopol, Kerch and Eupatoria. Interesting is the fact, that in the years 1914-1970 in Simferopol operated tram system. It was eventually replaced in 1970 year by the "Crimean Trolleybus".
Trolley buses are a good, ecological and convenient means of transport. Are much larger and more comfortable than the suburban Buses ! You can easily travel between Yalta and Alushta - admiring and visiting the beautiful seaside settlements ! They are also much cheaper than the buses, though they were going a little slower because of the technical parameters of this type of vehicle.
For everybody coming to Crimea: by train or plane to Simferopol - certainly it will be very helpful mean of transportation !!! We highly recommend !
You should come to the Crimea and get to know this charming place of "Unknown Ukraine" ! The unique Mediterranean climate, warm blue sea, monumental mountains, and the unique culture of Tartar, remnants of Greek culture, Sarmatian, Karaite and the legacy of Tsar Empire of Russia and the USSR !! The powerful Black Sea fleet of Russia and Ukraine, ancient ruins, unique views - all this awaits you !!!
We also encourage you to read related articles on this topic and sharing your own insights and suggestion in the comments !
An article written in 2011 year
NieznanaUkraina the only Ukraine!
ARTICLE TAGS
COMMENTS TO THE ARTICLE
THERE ARE COMMENTS
WE APPRECIATE YOU COMMENTS (SOME TRANSLATED FROM POLISH)
PLEASE WRITE YOUR COMMENT
SHARING WITH US YOUR THOUGHTS

About Site
NieznanaUkraina.pl
For trips to Ukraine we wish
happy reading about Ukraine, We encourage you to actively comment! About page
Comments
SEARCH
ON WEBSITE
To see the contents of the, Click on the relevant section below:
You can receive information about new articles on email:
Subscribe to our newsletter by mail on FeedBurner
POPULAR
Articles, that read the most times
WHAT CAN BE TRANSPORTED BY ...
: 157,075
UKRAINIAN LARD: SAŁO..
: 78,156
UKRAINIAN CIGARETTES AND YOU ....
: 71,306
BY TRAIN VIA UKRAINE: ...
: 61,106
NATIONAL SYMBOLS OF UKRAINE
: 57,451
UKRAINIAN LANGUAGE and ALPHABET
: 57,314
POLAND - UKRAINE BORDER
: 42,833
EXCHANGING CURRENCY IN UKRAINE
: 38,559
THE PURCHASE OF RAILWAY TICKETS ...
: 37,051
BEFORE YOU TRAVEL
: 31,815
HOLIDAYS IN UKRAINE
: 31,098
MOBILE IN THE UK..
: 30,727
FAMOUS UKRAINIANS
: 29,011
A TRIP THROUGH MEDYKA : 1ST...
: 26,440
CRIMEA : AUTONOMOUS REPUB ....
: 26,131