SUMMARY
Balneological resort named. Omelian Stocki Skhidnycia / Східниця - located 10 km south-west of the town Boryslav in the area of Drohobych ​​Agglomeration. Known, young resort since 1976 has the status of a state resort. Its fame owes existence 38 sources and 17 mineral water wells of varying mineralogical composition. Among them is the most valuable "Naftusya" / "Нафтуся", which was in a nearby Truskavets extracted for medicinal purposes in the first half of the nineteenth century.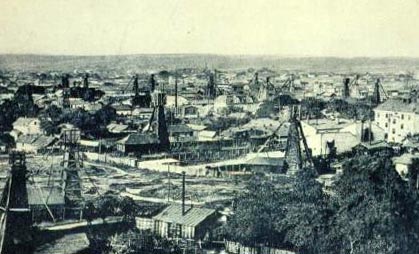 If you are looking for something similar, check RELATED ENTRIES at the end of this article.
CATEGORY OF ARTICLE: Articles, Municipalities, Resorts June 13, 2014, 09:00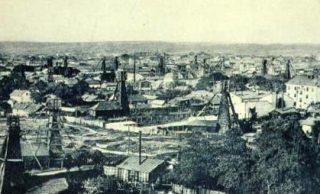 Skhidnycia/ Східниця a city is a type 10 km south-west of the town Boryslav in the area of Drohobych ​​Agglomeration. Located at an altitude of 600-900 mnpm. River Schidnyczanką. Etymologically the name of the village comes from the "glide" / "Shodzhennya". This is due to descent from the local population to hide from the nearby mountains after the invasion of Tartar-Mongol. People were returning to their devastated villages and in honor of this event called the reconstructed village or Schidnycia Schonica.
In the second half of the nineteenth century and early twentieth century, Schidnycia was an industrial town (mining).

Industrial Schidnyci panorama at the beginning of the twentieth century
Intensively mined oil here, natural gas and ozokerite (natural wax). From 1872 the year was mined in this area 3812 k. tonnes of oil and 407 million. m³ of natural gas. You currently have disappeared in favor of the mining function and tourist resort. Therefore, the mineral water "Naftusia", owes its existence and properties occurring here in oil strata.
Currently, the industrial past in Schidnyci, provide "scattered" in the area numerous, inactive oil wells and equipment for oil wypompowywaniu.
Out of a device used wypompowywaniu oil deposits in Schidnyci
Since 1976 village resort has the status of state and officially called "Balneological resort to them. Omeliana Stockogo". Owes its fame to a local pensioner Omelianowi Stockiemu / Omelyan Stotsky, which in 1975 he discovered in the area large deposits of mineral waters.
In Schidnyci intensively developed the function spa. Many hotels are being built, B, spas and private villas. Works here also pump room and a large spa park / kurortowy, where are located the source of unique mineral water.
Interesting is the fact, that in the mid- 90. decision was made to start construction of trolley bus with a total length 20 km, which should combine with Truskavets Schidnycię to facilitate communication and improve the natural environment.
ARTICLE TAGS
COMMENTS TO THE ARTICLE
YOU CAN LEAVE THE FIRST COMMENT
AND START INTERESTING DISCUSSION

About Site
NieznanaUkraina.pl
For trips to Ukraine we wish
happy reading about Ukraine, We encourage you to actively comment! About page
Comments
SEARCH
ON WEBSITE
To see the contents of the, Click on the relevant section below:
You can receive information about new articles on email:
Subscribe to our newsletter by mail on FeedBurner
POPULAR
Articles, that read the most times
WHAT CAN BE TRANSPORTED BY ...
: 149,511
UKRAINIAN LARD: SAŁO..
: 71,271
BY TRAIN VIA UKRAINE: ...
: 58,407
UKRAINIAN CIGARETTES AND YOU ....
: 56,712
UKRAINIAN LANGUAGE and ALPHABET
: 51,607
2018: NON-WORKING DAYS ...
: 42,127
NATIONAL SYMBOLS OF UKRAINE
: 40,355
EXCHANGING CURRENCY IN UKRAINE
: 36,879
THE PURCHASE OF RAILWAY TICKETS ...
: 34,454
POLAND - UKRAINE BORDER
: 30,284
MOBILE IN THE UK..
: 27,379
BEFORE YOU TRAVEL
: 27,293
HOLIDAYS IN UKRAINE
: 25,039
A TRIP THROUGH MEDYKA : 1ST...
: 24,582
2017: NON-WORKING DAYS ...
: 23,166