SUMMARY
Morszyn / Morshyn - Great spa Ukrainian Podkarpacie. Has an extensive database of travel and a long tradition of reaching the fifteenth century balneology. In 1878 The first season was held medicinal, and running a spa operates on the basis of local sources of mineral water, mined brine wells and mud collected in the local forests.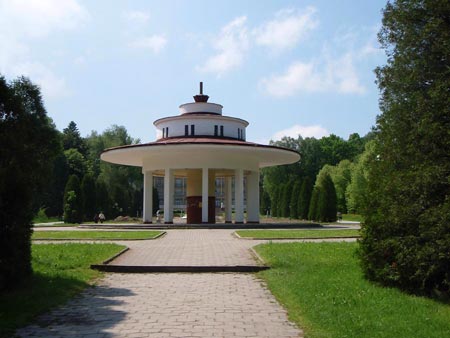 If you are looking for something similar, check RELATED ENTRIES at the end of this article.
CATEGORY OF ARTICLE: Articles, Municipalities, Resorts August 14, 2013, 18:00
Morszyn / Morshyn – town and important resort in Ukrainian Near-Carpathians. Situated among picturesque forests on the South-West of Lviv at height 340 mnpm. The history goes back to the fifteenth century spa. Then the peasants living in these areas, wydobywali your Solanka, which in the special "Banie" or "soups" with high evaporation temperature - thereby obtaining salt. The big drawback was the bitter taste of salt, which comprised the then unknown chemical constituents. Salt of Morshyn was not competitive in the market (Drohobych salt had better taste), which led to the collapse of the local mining industry.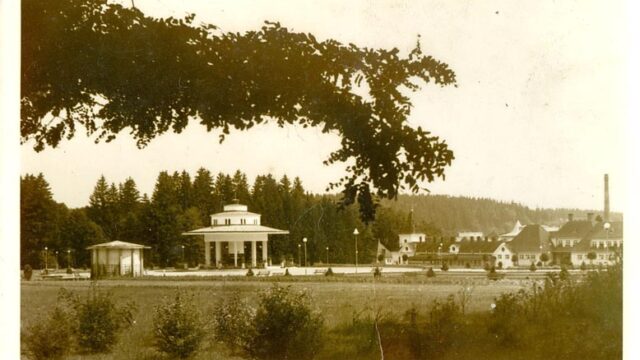 The situation has changed, when the town was conducted in 1875 years turn, which merged important urban centers - and Uncle Stanisławów. Then the landlord and owner of Morshyn, a merchant of German origin Boniface Shtiller / Боніфацій Штіллер Lvov invited two well-known physicians, chemists in. Piasecki and S. Dzikowskiego, who are already in 1878 year organized the first season of healing. Running a spa operated on the basis of local sources of mineral water, mined brine wells and mud collected in the local forests.

The newly established resort modeled on western European spas, which were then very fashionable - particularly among the aristocracy and bourgeoisie. Already in 1881 year in the resort were: spa park, pump room, 12 rooms with special "bath" / "Cans" and the therapeutic 2 important sources. Also created the first sanatoriums and pensions for patients. In 1879 year, two main sources named in honor of the owners of the spa - Shtillerów. Source number 1 called "Boniface", a number 2 "Magdalena". Also in 1879 was opened ultrasłodkie (term chemical) source of "Our Lady".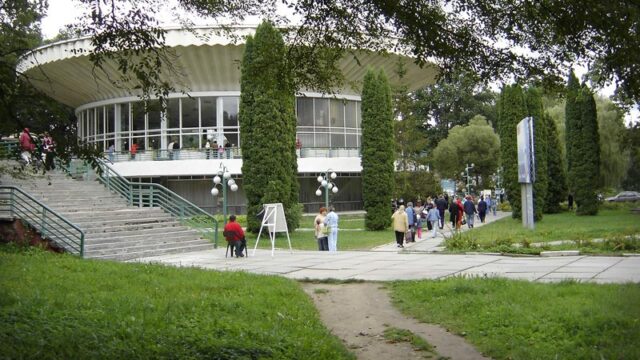 From 1880 Morshyn years has been the official name of the resort balneological, and therapeutic seasons were called "Treatment of mineral water and mud". At the end of the nineteenth century, gained worldwide fame Morshyn. Miejscową Solanki eksportowano do: USA, Italian, German, England and Romania.
The next stage of development of the spa for the period between the wars. Then built here: hospital inhalation, Peat hospital, hydropathic hospital, as well as the most recognizable landmark resort - mineral water pump-"Mushroom" / "Fungus", which was the symbol of the city. Also built in 1935 year, the largest spa "Marble Palace" / "Marble Palace".
In the Soviet period there was intensive development of the spa next. Wellness clinics launched, and a system of workers' holiday, which led to the therapeutic process massifi. Will, guest houses and manor houses, combined, in sanatoria of various profiles. Rapidly growing popularity of spas. For example, in 1964 In the year Morshyn was visited by 42,221 patients, in 1973 59,288 people came, and already in 1977 In the year, 67,137 people benefited from medical services. Morshyn resort was a national-level (USSR), Like Balneological Resort Truskavets.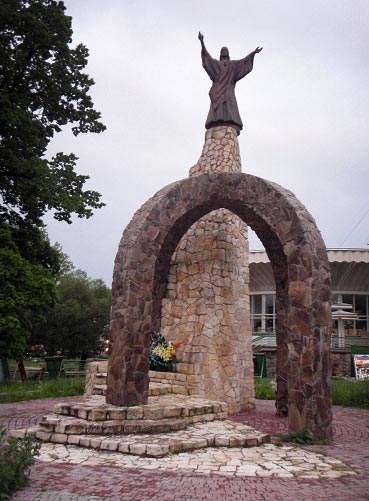 At present Morshyn is an important tourist center of Ukraine Podkarpacie. Water "Morszynska", is one of the most recognizable products of the region in western Ukraine, and increasingly all over Ukraine. Beautiful and unique surroundings, parks and lakes create an ideal base for the development of spa tourism and cognitive.
ARTICLE TAGS
COMMENTS TO THE ARTICLE
THERE ARE COMMENTS
WE APPRECIATE YOU COMMENTS (SOME TRANSLATED FROM POLISH)
PLEASE WRITE YOUR COMMENT
SHARING WITH US YOUR THOUGHTS

About Site
NieznanaUkraina.pl
For trips to Ukraine we wish
happy reading about Ukraine, We encourage you to actively comment! About page
Comments
SEARCH
ON WEBSITE
To see the contents of the, Click on the relevant section below:
You can receive information about new articles on email:
Subscribe to our newsletter by mail on FeedBurner
POPULAR
Articles, that read the most times
WHAT CAN BE TRANSPORTED BY ...
: 157,075
UKRAINIAN LARD: SAŁO..
: 78,156
UKRAINIAN CIGARETTES AND YOU ....
: 71,306
BY TRAIN VIA UKRAINE: ...
: 61,106
NATIONAL SYMBOLS OF UKRAINE
: 57,451
UKRAINIAN LANGUAGE and ALPHABET
: 57,314
POLAND - UKRAINE BORDER
: 42,833
EXCHANGING CURRENCY IN UKRAINE
: 38,559
THE PURCHASE OF RAILWAY TICKETS ...
: 37,051
BEFORE YOU TRAVEL
: 31,815
HOLIDAYS IN UKRAINE
: 31,098
MOBILE IN THE UK..
: 30,727
FAMOUS UKRAINIANS
: 29,011
A TRIP THROUGH MEDYKA : 1ST...
: 26,440
CRIMEA : AUTONOMOUS REPUB ....
: 26,131