SUMMARY
CITY OF PRIVATE Zhovkva In 1597 year, Crown field hetman Stanisław Żółkiewski founded the town of Zhovkva / Zhovkva. It was, like Zamosc, private city, belonging to one family. Officially received city rights in 1603 year and over the centuries changed its owners. These included such well-known families as Daniłowiczowie, Hidden categories: and They. Among […]
If you are looking for something similar, check RELATED ENTRIES at the end of this article.
CATEGORY OF ARTICLE: Articles, History , Municipalities January 12, 2011, 23:28
PRIVATE CITY ZHOVKVA
In 1597 year, crown hetman Stanislaw Zolkiewski founded the city Zhovkva / Zhovkva. It was, like Zamosc, private city, belonging to one family.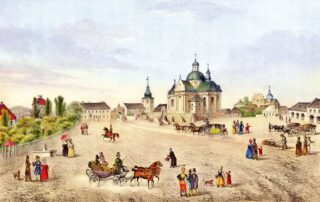 Officially received city rights in 1603 year and over the centuries changed its owners. These included such well-known families as Daniłowiczowie, Hidden categories: and They. Among the most important monuments Zhovkva replace: Dominican parish church dedicated to St.. Stanislaus Lawrence and built in the early seventeenth century, a defensive synagogue built in the late seventeenth century (under renovation), and the historic Castle Sobieski, Market and City Hall from the fifteenth – Sixteenth century. Today is the urban center Zhovkva, the city has the status of a district in the Lviv region. As part of the castle, which operates a preserved historical museum open to the public. The old buildings of the city are now in the reconstruction.
Image showing Zhovkva in the eighteenth century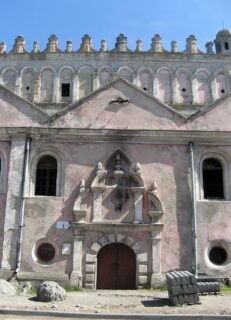 Synagogue Zhovkva / Y Жовкві Синагога ranked among the largest synagogues in Europe, posiadających character obronny. It was built on-site synagogue derived from the time location of the city Zhovkva. As a result of fire in 1625 year old wooden synagogue was destroyed. Ten years later, the owner of the town Zhovkva Stanislaw Danilewicz allowed the construction of a new, brick synagogue. Finally completed in the seventeenth century with the financial support of King Jan III Sobieski. The temple served as the religious to the outbreak of World War II, and during the occupation was partially demolished. After finishing the war was the decision of local authorities turned to the composition. In 2000 year transferred to the Jewish community buildings, and devoted to the creation of the Jewish Center of Galicia.
Synagogue Zhovkva

Square in Zhovkva
ARTICLE TAGS
COMMENTS TO THE ARTICLE
YOU CAN LEAVE THE FIRST COMMENT
AND START INTERESTING DISCUSSION

About Site
NieznanaUkraina.pl
For trips to Ukraine we wish
happy reading about Ukraine, We encourage you to actively comment! About page
Comments
SEARCH
ON WEBSITE
To see the contents of the, Click on the relevant section below:
You can receive information about new articles on email:
Subscribe to our newsletter by mail on FeedBurner
POPULAR
Articles, that read the most times
WHAT CAN BE TRANSPORTED BY ...
: 154,328
UKRAINIAN LARD: SAŁO..
: 76,371
UKRAINIAN CIGARETTES AND YOU ....
: 66,878
BY TRAIN VIA UKRAINE: ...
: 60,600
UKRAINIAN LANGUAGE and ALPHABET
: 56,764
NATIONAL SYMBOLS OF UKRAINE
: 54,426
POLAND - UKRAINE BORDER
: 41,163
EXCHANGING CURRENCY IN UKRAINE
: 38,001
THE PURCHASE OF RAILWAY TICKETS ...
: 36,390
BEFORE YOU TRAVEL
: 31,376
HOLIDAYS IN UKRAINE
: 30,182
MOBILE IN THE UK..
: 29,777
FAMOUS UKRAINIANS
: 27,941
A TRIP THROUGH MEDYKA : 1ST...
: 25,959
CRIMEA : AUTONOMOUS REPUB ....
: 25,330