SUMMARY
The third and last part of the relation from the trip to the Crimea, held in August 2010 y. Read about how we went from Sudak in the direction of Sevastopol and Balaclava through Alushta and Simferopol. A story with pictures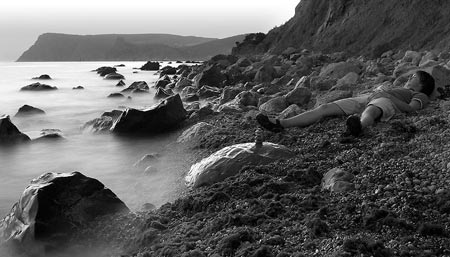 If you are looking for something similar, check RELATED ENTRIES at the end of this article.
CATEGORY OF ARTICLE: Articles, Travel , Featured May 17, 2011, 12:00
We invite you to the third part of the story about the journey to the Crimea, held in August 2010 y.
In this part we will show the second half of the route traveled.
Sudak , 19.08.2010, after midday
We leave for Alushta the shuttle bus. Bus rides through the beautiful streamers, but quickly. Beautiful views. Please be prepared to, that it will be difficult for people with motion sickness to ride with comfort.
In Alushta you can see :
Fortress Aluston, ukr. Алустон - a Byzantine fortified medieval fortress. It is thanks to this fortress Alushta received its present name: Aluston → Alushta !!! Founded in the fifteenth century in order to protect fisheries and artisan villages;
Other bastions of fortresses, from the thirteenth and fifteenth centuries (now in state of secured ruins);
Medieval fortification Funa (ukr. Фуна), coming from the XII - XV centuries;
Historic villas aristocratic families, merchants and tsarist, that come from different periods of prosperity of the town;
Waterfall Jur-Jur (ukr. Водопад Джур-Джур) height 15 m.
Alushta, 19:00
From Alushta head to trolejbusową line Simferopol. We did not arrive to Simferopol, we have in plans to visit the Mramorna cave. Unfortunately, access to the caves was banned, because of the protection of forests against fire. As well as access to the campsite, So at night we had to find where to sleep, fortunately managed to spend the night in the yard behind the shop, with the permission of the owners for 10 Hryvnia the person.
Mramornoye, 20.08.2010, early
We made our way to the trolleybus Simferopol.
Simferopol , 09:00
Get off next to the train station. From the station you can get to Sevastopol .
You can also be Simferopol.
You can see in Simferopol:
The city is the seat of known archaeological reserve "Scythian Naples", residues which are located in the southeastern part of today Simferopol. There is the famous Mausoleum of Scythian Naples ! Scythian Naples, was the capital of ancient Scythian state in the Crimea. The city was founded in the third century BC, Scythian state capital has become as a result of pressure щаSarmatian tribes on Naddnipryanski (near Dnipro) land. The flourishing of Naples came in the second century BC;
The city has five theaters and philharmonic, as well as numerous museums: tours, arts, historical, archaeological, war and other;
Numerous palaces and villas of aristocratic families, mercantile, people connected with art and rhodium tsarist.
Sevastopol, 11:00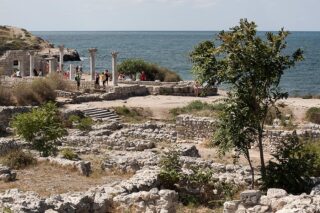 We get to the Sevastopol. At the station we eat, not bad and prices are okay. We are looking for space for luggage, which is at the station. Break is from 14 probably till 15-16. You have to pay for any external thing, eq. foam mattress can also count, as a separate thing, but the price for one thing is of the order 15 hryvnia per day, although of course it is worth paying for a backpack.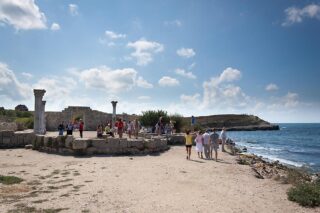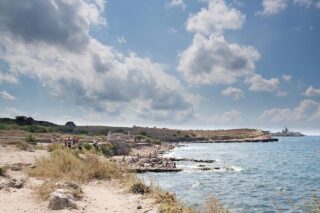 In Sevastopol worth seeing:
Chersonesos Taurica is a historic Park - ukr. Херсонес Таврійський – in its area partially reconstructed buildings from the time of Greek settlements in this area !!! Chersonesus ruins are open to visitors as a large reserve - an archaeological museum !
St. Vladimir Cathedral, was rebuilt after war damage World War II – council is located in the Chersonesus Taurica;
Museum of Black Sea Fleet - naval military base of the Russian Federation and Ukraine. Russian and Ukrainian ships commonly use one military rill;
Numerous monuments commemorating the war on land and sea with periods of war: Crimea, I and II World War . Symbolizing the heroic inhabitants and sailors;
Numerous urban museums, which are devoted to different fields: sea, space exploration, aviation, artillery, history, ethnography and other;
Buildings of public institutions, theaters, aristocratic and officers villas , that come from different periods of glory – Hero City of Sevastopol.
Sevastopol, 16:00
From Sevastopol We go to Balaclava, not so long ago, a completely closed military town, now growing resort. Beautiful place, very pure water, super beaches, the choice of two beaches in town (very small) and silver (closer) and golden beaches outside.
Balaclava, 18:00
For silver and gold beach, hourly flows big ship, which stops on the two beaches. Also you can swim in the smaller motor boats (a little more expensive). Well worth it to go to the mountains to the beach, but better without the baggage.
In Balaclava you can visit the depot for repair and restoration of underwater submarine ships, an interesting climate in the Middle, completely built under the rock.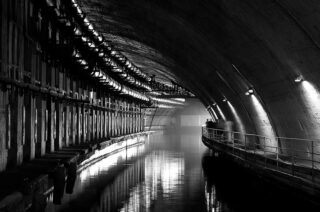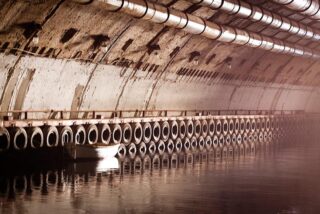 From Balaclava You can go on various trips in the surrounding areas, the choice is really big.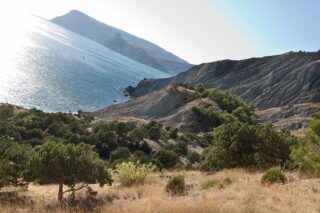 On second far beach (gold) there is tent camp, where they charge 15 hryvnia per night.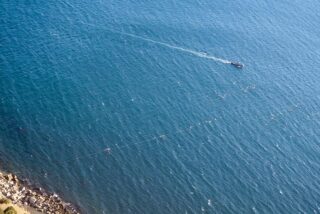 The Balaklava itself worth a visit cape Fiolent, and to the village Inkerman - Wine producer, and former convent, in rock.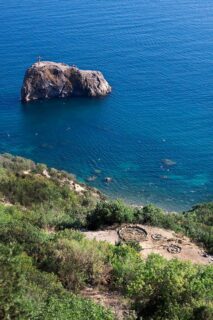 In Balaclava there area lot of places where you can eat. Cheapest is to buy products on the market, or in the shop. Also you can find a canteen with a sufficiently low prices.
Flora and fauna is different than in other parts of Ukraine
Balaclava becomes our friendly home for a few days.
From Balaclava You can return to Sevastopol, and then to Lviv, or to Simferopol and Lviv.
This is the end of our story!
Please leave your impressions of the relation of this expedition in the comments!
ARTICLE TAGS
COMMENTS TO THE ARTICLE
THERE ARE COMMENTS
WE APPRECIATE YOU COMMENTS (SOME TRANSLATED FROM POLISH)
PLEASE WRITE YOUR COMMENT
SHARING WITH US YOUR THOUGHTS

About Site
NieznanaUkraina.pl
For trips to Ukraine we wish
happy reading about Ukraine, We encourage you to actively comment! About page
Comments
SEARCH
ON WEBSITE
To see the contents of the, Click on the relevant section below:
You can receive information about new articles on email:
Subscribe to our newsletter by mail on FeedBurner
POPULAR
Articles, that read the most times
WHAT CAN BE TRANSPORTED BY ...
: 157,075
UKRAINIAN LARD: SAŁO..
: 78,156
UKRAINIAN CIGARETTES AND YOU ....
: 71,306
BY TRAIN VIA UKRAINE: ...
: 61,106
NATIONAL SYMBOLS OF UKRAINE
: 57,451
UKRAINIAN LANGUAGE and ALPHABET
: 57,314
POLAND - UKRAINE BORDER
: 42,833
EXCHANGING CURRENCY IN UKRAINE
: 38,559
THE PURCHASE OF RAILWAY TICKETS ...
: 37,051
BEFORE YOU TRAVEL
: 31,815
HOLIDAYS IN UKRAINE
: 31,098
MOBILE IN THE UK..
: 30,727
FAMOUS UKRAINIANS
: 29,011
A TRIP THROUGH MEDYKA : 1ST...
: 26,440
CRIMEA : AUTONOMOUS REPUB ....
: 26,130