SUMMARY
Industrial city located within the Drohobych-Boryslav Agglomeration. Former major center of oil industry in eastern Galicia, and also in II RP ( POLAND) in the interwar period. Located between picturesque mountains town, is located on the pretty large stocks of crude oil, natural gas and ozokerite. For lovers of industry-related facts, history and geography of the chemical industry, especially petrochemical - invariably go to the Boryslav !!! The city is located on the "Tourist Oil Route" in close proximity to Drohobych - the famous hometown of Bruno Schulz !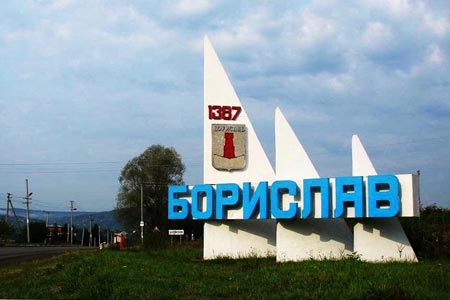 If you are looking for something similar, check RELATED ENTRIES at the end of this article.
CATEGORY OF ARTICLE: Articles, Municipalities May 20, 2011, 12:00
Boryslav, ukr. Борислав (49° 17 '21 "N, 23° 25 '8 "E), the industrial town on river Tysmennycia. The first mention about Boryslav comes from 1387 year ! Near the city, near the present village Urych functioned Old Ruthenian stronghold, watchtower "Tu-stan" !
The center of Boryslav oil and gas refining Industrial Region ! This was the center of intensive exploitation of oil and natural gas at the turn of the nineteenth and twentieth centuries and in the interwar period (II RP (POLAND)). Attracted many investors from Europe, because it had a very productive oil and gas deposits. After the revolutionary discovery of crude oil in petroleum products in the second half of the nineteenth century, intensively began oil exploration in eastern Galicia by firms and companies: Austrian, German, Belgian and U.S..
Since the second half of the nineteenth century, Boryslav shaped like a classical industrial city. Extracted here: oil, natural gas, ozokeryt (natural wax), which is very important and rare resource for balneology (Truskavets, Skhidnycia, Morshyn … ), and various clay, gravels, sand and wood !
Boryslav lies in the immediate vicinity of: Drohobych, Truskavets and Skhidnycia - the latter two are important regional and national resorts - balneology resorts. There are almost no historic buildings in this industrial city. You can "meet" a few Art Nouveau buildings, residential buildings and the old pre-war buildings - but generally, Boryslav, is a classic post-industrial city, with clearly marked, vanishing function of the industry. The economic transformation in Ukraine don't pander to the city, service functions are not fully replaces industrial functions, and this in turn leads to a clear degradation of the urban fabric and the large exodus of people !
For lovers of passive relaxation and those, who in the summer stop in Boryslav - we recommend: rest on the numerous small lakes (arising as a result of exploitation of clays and gravels), nice walks on the fresh air in the nearby forests and mountains, and "diping legs" in the clear river at the Skhidnycky Pass !
But in the winter, we propose to visit a small ski lift named "Mrazhnycia", which is a small, modest base for lovers of skiing and snowboarding in nearby cities ! ( However, we warn, that the poor preparation of slope leads to that it is rather difficult, relaxing ride is not possible, can serve as a training in difficult conditions).
As for transportation, in Boryslav is functioning bus station ! There is also a railway station, but, at present, passenger trains do not run - only cargo: of oil tankers and wagons with wood and scrap ! The town lies on the local / regional transport route, which connects the city of Drohobych with Turka in the Carpathians.
While passing, while traveling Ukrainian East Prykarpattia, it is worth to visit Boryslav in order to supplement the general knowledge of Ukraine !
An interesting fact is that in 1909 the share of crude oil on the world market of Boryslav, was about - 5% !!!! Through Boryslav currently is undergoing "Tourist Oil Route" !!!
Has anyone of you have been in Boryslav ?
Please write in comments about Boryslav !
ARTICLE TAGS
COMMENTS TO THE ARTICLE
THERE ARE COMMENTS
WE APPRECIATE YOU COMMENTS (SOME TRANSLATED FROM POLISH)
PLEASE WRITE YOUR COMMENT
SHARING WITH US YOUR THOUGHTS

About Site
NieznanaUkraina.pl
For trips to Ukraine we wish
happy reading about Ukraine, We encourage you to actively comment! About page
Comments
SEARCH
ON WEBSITE
To see the contents of the, Click on the relevant section below:
You can receive information about new articles on email:
Subscribe to our newsletter by mail on FeedBurner
POPULAR
Articles, that read the most times
WHAT CAN BE TRANSPORTED BY ...
: 157,094
UKRAINIAN LARD: SAŁO..
: 78,167
UKRAINIAN CIGARETTES AND YOU ....
: 71,338
BY TRAIN VIA UKRAINE: ...
: 61,111
NATIONAL SYMBOLS OF UKRAINE
: 57,471
UKRAINIAN LANGUAGE and ALPHABET
: 57,318
POLAND - UKRAINE BORDER
: 42,843
EXCHANGING CURRENCY IN UKRAINE
: 38,563
THE PURCHASE OF RAILWAY TICKETS ...
: 37,059
BEFORE YOU TRAVEL
: 31,821
HOLIDAYS IN UKRAINE
: 31,108
MOBILE IN THE UK..
: 30,736
FAMOUS UKRAINIANS
: 29,017
A TRIP THROUGH MEDYKA : 1ST...
: 26,445
CRIMEA : AUTONOMOUS REPUB ....
: 26,136