SUMMARY
We present to you article by Anna Krzosek about Maidan. Mrs. Anna belongs to the post-war generation "maidanniks", That's why she had done a thorough examination on a beautiful mountain village of Maidan. We encourage you to read, and you will learn about what was the Maidan on the basis of the most reliable sources of information. We thank Mrs. Anna Krzosek for sharing this article with all of us. Thus, it is the first article of our readers, So we recommend to the active participation of all creative people!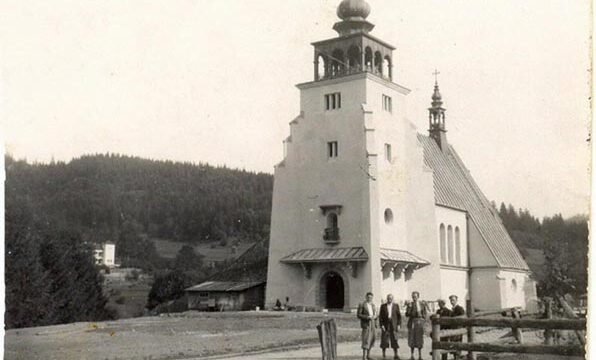 If you are looking for something similar, check RELATED ENTRIES at the end of this article.
CATEGORY OF ARTICLE: Articles, History , Municipalities June 23, 2011, 08:00
Author : Anna Krzosek
Maidan and its close surroundings
Maidan is a beautifully located mountain village in Bieszczady. It lies in the former county. Drohobych, region. Lviv, 32 km south-west. from Drohobych, 26 km from Boryslav, pushing a wedge between the counties Turchansky and Stryisky.
I am part of the post-war generation "maidanniks", that from an early age was brought up in the great love and respect to the place, that parents and grandparents were forced to leave more than 60 years ago, and which image till the rest of their life wore in their hearts. This led to, that "Maidan" has accompanied me "from always", was integral particle of my life, Although I knew, that place called with that word is paradise lost lying somewhere "far in the mountains, in the forests ".
As a child instead of a fairies i was listening to stories about meetings with bears, wolves howling at the moon, fish "babkach" caught in the river with a fork, jelonku Kubusiu wykarmionym bottle. I always went out "on field", and not "on outside", I knew, What is "meshty" or "prylipka" or "kalatushka". No wonder, I did everything, to see this extraordinary place, where everything was better, greater, more beautiful. I went there for the first time on very briefly 1989 year. Since that time I was there several times and it is there for a moment I feel at home, i do a journey in time. It turns out, that such people like me, such "post-war" maidanniks charmed with the birthplace of their loved ones, there are very many. Only now, among others. thanks to Internet we get to know, We often discover connecting closer or further relationship. We have been already for three times in Maidan with such a group, first in October 2007, and then in the summer 2008 y. and 2010 y., discovering it anew.
This, what I write below about the Maidan, I created from scraps of information found in various books and online, as well as fragments of memories of still living maidanniks, including my today 82-year-old Mom, although memory often plays tricks on them and the same event has so many versions, how many storytellers.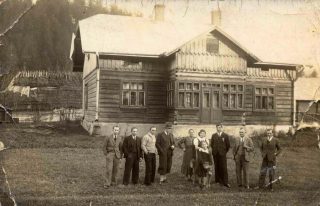 Photo from November 1938 y, on which there are my grandparents

How to get to Maidan?
To our Maidan the best way to get there is from Boryslav and Skhodnica, going by a beautiful scenic driving route (unfortunately, positive feelings do not apply to road surface) and going higher and in wilder mountains, it is worth to realize to yourself, that this distance, our ancestors often walked-, going to Boryslav to work or shopping, and even on the market to a distant Drohobych. Their journey did not take place, however, by this route, which is we going, but the so-called. "shortcuts". You should also bear in mind, that this way famous the "white couriers" rode through , described by Tadeusz Chciuk in his book[1]. From Borysławia road leads through departments, on the left side we path Skhidnycia, then run through Novy Kropivnyk, the bridge on the river Stryj (new, after an old wooden there no sign after the last flood), Rybnik village and enters to the valley of Rybnik Maidansky.
Name Maidan
There were a lot of villages called Maidan was a lot in old Poland, had in its name its additional descriptions, eq. Majdan Zbydniowski or Sieniawski. Our Maidan was called to distinguish Maidan Iron, and thats why, about this further. Majdan is the name of a Turkish origin used for the determination of the square of the village, in the military camp, in the fortress, on yard. The square had economic importance as a place to trade or storage of different goods, packages. Now, in everyday language, means garden or courtyard. At Borderlands with name maidan called cleared places in the forest, for working with wood or charcoal-burning. Maidan is a settlement of the forestry workers.[2]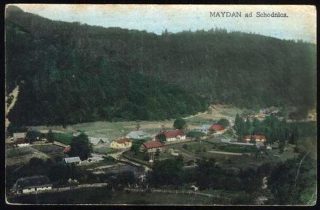 Photograph showing the Majdan around 1910 year
Location Of Maidan
MAIDAN extends over approximately 2 km in the Valley of Maidansky Rybnyk. It lies on the h:. 530 m npm. Is closed from the west with slopes of Lipovata, from north-eastern. – Horodok, from east. with Mielnichna pass, and on the south slopes of Holyna. At the foot of the Lipovata the Rybnik Valley divides in two : on the right side opens up a new valley of Rybnik Zubzhycky, on the left valley of Rybnik Maidansky stretches.[3] To the south of the village Rybnik extends settlement Holostych (Vodostych), there is a sigh with the name of the village of Maidan and the first buildings stretching to the fork in the road, over which towered powerful iron viaduct narrow gauge railway. Viaduct is gone, leaving only remnants of the pillars. The road leads us to the center of Maidan, on the right side, on a slight uphill ("on a hill near the chapel"), was the oldest (burials possibly discontinued in the 20s of the twentieth century) maidansky cemetery, on which has been preserved tombstone with the figure of Our Lady of Lourdes and the inscription: "Józef i Petrunela Ważni". In the center of the village, in not big distance from each other, the most important buildings were concentrated: 2 the churches, Greek Catholic church, narrow-gauge railway station, which also housed the offices of the company "Godulla", Chateau, school, Rifle Association headquarters, Sickness Fund. Today these buildings do not exist or either changed their destiny. Attracts attention brick church converted into a hotel. This is a sign of the time. There is no one to serve, because there are no Poles in Maidan. The Last, Stanisław Lachowicz, died in 2003 y.
---
[1] T. Chciuk:White couriers. Munich, Germany 1986.
[2] www.pl.wikipedia.org
[3] H. Gąsiorowski:Bieszczady, Kielce 2000, s. 104 (reprint "Przewodnika po Beskidach Wschodnich"from 1935 y.)
…
PART OF THE ARTICLE:
1
2
3
4
ARTICLE TAGS
COMMENTS TO THE ARTICLE
THERE ARE COMMENTS
WE APPRECIATE YOU COMMENTS (SOME TRANSLATED FROM POLISH)
PLEASE WRITE YOUR COMMENT
SHARING WITH US YOUR THOUGHTS

About Site
NieznanaUkraina.pl
For trips to Ukraine we wish
happy reading about Ukraine, We encourage you to actively comment! About page
Comments
SEARCH
ON WEBSITE
To see the contents of the, Click on the relevant section below:
You can receive information about new articles on email:
Subscribe to our newsletter by mail on FeedBurner
POPULAR
Articles, that read the most times
WHAT CAN BE TRANSPORTED BY ...
: 149,511
UKRAINIAN LARD: SAŁO..
: 71,271
BY TRAIN VIA UKRAINE: ...
: 58,407
UKRAINIAN CIGARETTES AND YOU ....
: 56,711
UKRAINIAN LANGUAGE and ALPHABET
: 51,607
2018: NON-WORKING DAYS ...
: 42,127
NATIONAL SYMBOLS OF UKRAINE
: 40,355
EXCHANGING CURRENCY IN UKRAINE
: 36,879
THE PURCHASE OF RAILWAY TICKETS ...
: 34,454
POLAND - UKRAINE BORDER
: 30,284
MOBILE IN THE UK..
: 27,379
BEFORE YOU TRAVEL
: 27,293
HOLIDAYS IN UKRAINE
: 25,038
A TRIP THROUGH MEDYKA : 1ST...
: 24,582
2017: NON-WORKING DAYS ...
: 23,166