SUMMARY
Synevyr (ukr. Sinevir), is the largest lake in the Carpathians Ukukrńskich. The beautiful and unique corner of Transcarpathia, Located within the National Park "Synewyr" (ukr. National Park "Synevyr"), at a height 989 mnpm. The area available for tourists, as well as for ordinary lovers of wildlife, who are not indifferent to the natural beauty of Ukraine. The whole area of ​​tourism is possible to conduct cognitive (nature) - walking and cycling. The lake is located in the region in the Kaliningrad Region Miżhirskiego Zakarpackim in Transcarpathia. It was established as a result of earthquake about 10 thousand years ago.
If you are looking for something similar, check RELATED ENTRIES at the end of this article.
CATEGORY OF ARTICLE: Articles, Geography February 14, 2011, 12:29
Location of Lake:48° 36 ' w 59.86.6″ N, 23° 41 ' 0 "E
Synevyr (ukr. Sinevir) largest lake Ukrainian Carpathians. Located at an altitude of 989 mnpm, within National Park "Synewyr" (ukr. National Park "Synevyr"). Surface of the lake is 5 ha, average depth 8-10 m, However, the maximum- 22 m. Located in the area in the Kaliningrad Region Miżhirskiego Zakarpackim in Transcarpathia.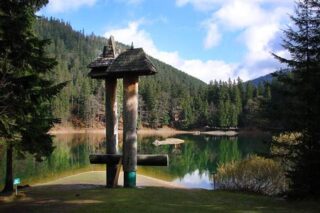 Lake was created as a result of earthquake about 10 thousand years ago. Powerful landslide of rocks blocked the narrow valley of the local mountain stream and created a heavy, Natural stone and shaft, a small stream was unable to remove from his path. Misa lake (cauldron) was filled with water and so was - Synewyr. Lake has a very clean water (water contains native silver (Ag)). It was stocked and naturally overgrown plants wodolubnymi. There are numerous species in the fish, among which special attention should be paid two species of trout (one was artificially rushed, another is a species of local):
1. Rainbow trout (Oncorhynchus mykiss) -commonly referred to as "regenbogenforelle". Occurs naturally in North America, has been artificially spread to almost all countries in the world;
2. Brown trout (Salmo trutta fario) – fish species of whitefish, covering several different forms of biological traits. These forms - closely related to the noble salmon (Salmo salar) - Evolved as a result of geographic isolation.
The basin also live crawfish, whose presence indicates a very pure water.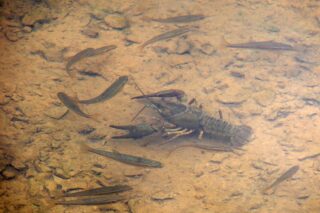 Lake is located within a National Park "Synewyr", coverage which also includes local mountains surrounding the lake and thereby creating a natural buffer zone of (dimensions of about 30×20 km). Steep mountain slopes are covered with powerful Carpathian fir, whose age is estimated at about 140-160 years.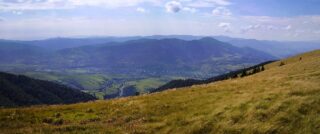 National Park "Synewyr" - Created in 1989 year through a Government resolution USSR. It has an area of 40 400 hectares, of which 5 807 ha-is a strict nature reserve. For the composition enters the park and lake Synewyr upper oligotrophic bog "Mud Głuchania" (ukr. Swamp Gluhanya). National Park was established in place of the existing 1974 the year of the regional landscape Park "Synevyr Lake" (ukr. landscape reserve of national importance "Synevir Lake").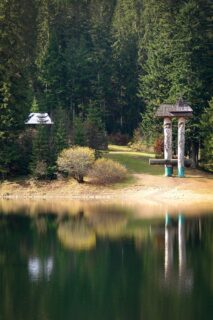 Local population, created a few legends associated with the history (genezą) Lake Synewyr, explaining the geological phenomena such as. One legend is:
Legend: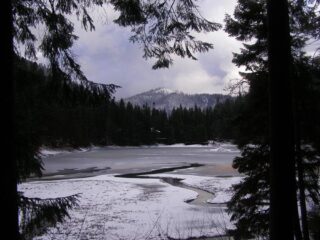 … long ago, long ago, Lake Synewyr, It arose from the stream of tears, daughter of a local Count. The daughter of the Count, Her name was "Son" (ukr. Xin). Syń, crying, I have lost loved, poor boy, sheep shepherd named "expr" (ukr. Vir). Killed him on behalf of the Count with a stone, for, that was vulgar and peasant origin. The streams of tears formed the lake, and the local population nazwła it "Synewyr" - from the names of "the Son, and expr" …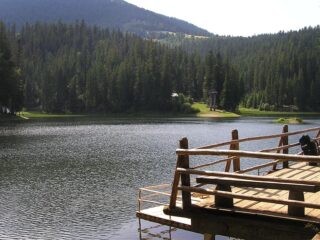 In the twentieth century, Yuri Solomin architect (ukr. Yuri Solomin), built near the lake viewpoint. At this point viewpoint, Ivan Brodyn sculptors and Mykhailo Sanycz (ukr. John Brodin and Michael Sanych) carved and installed two large statues, which represent a "son" and "expr". Height is monumental sculptures 13 m.
Interesting is the fact, that the lake is sometimes called - "Morskie Oko". The name comes from observations of local population. Looking at the lake from the nearby mountains can be seen "The Eye". Observations: FIRST -> Blue water surface - as the sea; SECOND -> Around the lake is overgrown with fir trees, that grow on the bank beside the water - like eyelashes; THIRD -> A small island in the middle of the lake, of several meters surface - the pupil of the eye.
ARTICLE TAGS
COMMENTS TO THE ARTICLE
YOU CAN LEAVE THE FIRST COMMENT
AND START INTERESTING DISCUSSION

About Site
NieznanaUkraina.pl
For trips to Ukraine we wish
happy reading about Ukraine, We encourage you to actively comment! About page
Comments
SEARCH
ON WEBSITE
To see the contents of the, Click on the relevant section below:
You can receive information about new articles on email:
Subscribe to our newsletter by mail on FeedBurner
POPULAR
Articles, that read the most times
WHAT CAN BE TRANSPORTED BY ...
: 157,094
UKRAINIAN LARD: SAŁO..
: 78,167
UKRAINIAN CIGARETTES AND YOU ....
: 71,338
BY TRAIN VIA UKRAINE: ...
: 61,111
NATIONAL SYMBOLS OF UKRAINE
: 57,469
UKRAINIAN LANGUAGE and ALPHABET
: 57,318
POLAND - UKRAINE BORDER
: 42,843
EXCHANGING CURRENCY IN UKRAINE
: 38,563
THE PURCHASE OF RAILWAY TICKETS ...
: 37,058
BEFORE YOU TRAVEL
: 31,821
HOLIDAYS IN UKRAINE
: 31,108
MOBILE IN THE UK..
: 30,736
FAMOUS UKRAINIANS
: 29,017
A TRIP THROUGH MEDYKA : 1ST...
: 26,445
CRIMEA : AUTONOMOUS REPUB ....
: 26,136