SUMMARY
Drohobych - a regional city of Lviv region, important railway junction, administrative center of the agglomeration drohobycko-borysławskiej. City Center is connected to the international road E40 (ua. M11) and E471 (ua. M06). The closest international border crossing is MEDYKA-SZEGINIE / Shehyni.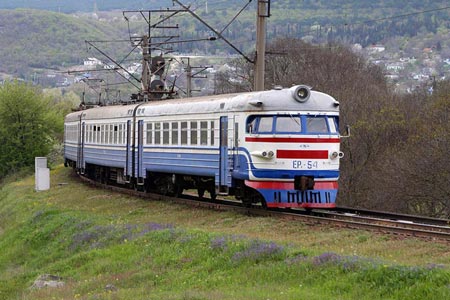 If you are looking for something similar, check RELATED ENTRIES at the end of this article.
CATEGORY OF ARTICLE: Articles, Transport January 24, 2011, 21:56
Drohobych - A city district in the Lviv region, located 85 km south-west of Lviv in the center of the agglomeration drohobycko-borysławskiej. Drohobych is an important railway junction connecting the town Truskavets, Stebnyk and Boryslav bus train between Samborem and Stryjem - Creating a point of marshalling Lviv Railways / Lvivska Zvliznytsya. The train ride Drohobycz, inter alia,: Borysławia, Truskawca, Steblika (in the agglomeration drohobycko-borysławskiej), Uncle, Sambora, Skole and Lviv (in Lviv), and long-distance trains to Kiev, Kharkiv, Dnipropetrovsk and Uzhhorod.
In addition to convenient rail link, Drohobych has good road connections to all the cities of Lviv Oblast, in particular with the agglomeration. District roads is linked via international E40 (ua. M11) and E471 (ua. M06). The nearest international border crossing (82 km) is MEDYKA-SZEGINIE / Shehyni. Regular buses, agglomeration which combine with Lviv and border crossing.
In Drohobych Bus operates two stations and the AC-1 AC-2 (AC - Auto Station), and the Railway Station "Drohobych" / Railway Station "Drohobych". In addition to the numerous calls międzymiejskich (railway, Traffic), Drohobych operates a number of trunks (15 line), which pierce the whole city creating a perfect communication network of the city. The value of one pass is one urban transport 4 hryvnia (4 UAH).
Interesting is the fact, that during the USSR, Drohobych was in the airport, which are served by light aircraft (-natural grassy runway). There are plans to launch sports glider airport.
Bus timetable Shehyni – Drohobycz i Drohobycz – Szeginie
Current on 2011 year
ARTICLE TAGS
COMMENTS TO THE ARTICLE
THERE ARE COMMENTS
WE APPRECIATE YOU COMMENTS (SOME TRANSLATED FROM POLISH)
PLEASE WRITE YOUR COMMENT
SHARING WITH US YOUR THOUGHTS

About Site
NieznanaUkraina.pl
For trips to Ukraine we wish
happy reading about Ukraine, We encourage you to actively comment! About page
Comments
SEARCH
ON WEBSITE
To see the contents of the, Click on the relevant section below:
You can receive information about new articles on email:
Subscribe to our newsletter by mail on FeedBurner
POPULAR
Articles, that read the most times
WHAT CAN BE TRANSPORTED BY ...
: 157,094
UKRAINIAN LARD: SAŁO..
: 78,167
UKRAINIAN CIGARETTES AND YOU ....
: 71,338
BY TRAIN VIA UKRAINE: ...
: 61,111
NATIONAL SYMBOLS OF UKRAINE
: 57,471
UKRAINIAN LANGUAGE and ALPHABET
: 57,318
POLAND - UKRAINE BORDER
: 42,843
EXCHANGING CURRENCY IN UKRAINE
: 38,563
THE PURCHASE OF RAILWAY TICKETS ...
: 37,059
BEFORE YOU TRAVEL
: 31,821
HOLIDAYS IN UKRAINE
: 31,108
MOBILE IN THE UK..
: 30,736
FAMOUS UKRAINIANS
: 29,017
A TRIP THROUGH MEDYKA : 1ST...
: 26,445
CRIMEA : AUTONOMOUS REPUB ....
: 26,136