SUMMARY
The area of ​​the western border of Ukraine are bound by many, outstanding: writers, poets, scientists, philosophers, politicians, revolutionaries and artists, recognized both in Poland, Ukraine and around the World. This article is dedicated just to them. Their work and activities contribute to the development of our Region, "Our Little Homeland", because we want to convey a few words about their lives, activity, creativity and contribution to our common history.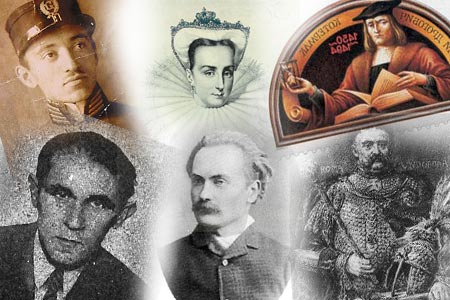 If you are looking for something similar, check RELATED ENTRIES at the end of this article.
CATEGORY OF ARTICLE: Articles, History January 10, 2011, 22:59
Maryna Mniszchówna
At the Old Sambor (Lviv region) in Laszkach brick, born in 1588 year Maryna Mniszchówna / (praise.) Mnishek Marina – czarina of Russia and the Tsar Dmitri koregentka usurper I / (praise.) False Dmitry I (1581 – 1606), who was allegedly, cudownie ocalałym carewiczem Dymitrem. As we know, Dmitri Ivanovich (1582-1591) Prince Ulicki and holy Orthodox, who was the younger son of Tsar Ivan IV the Terrible and his seventh wife, Maria Nagoya - died in the 1591 year.
Maryna Mniszech portrait from the period prior to taking power in Russia
Jan III Sobieski
17 August 1629 in Oles'ko / Olesko (now Lviv) Castle Oleskim born Polish King and Grand Duke of Lithuania Jan III Sobieski, Janina coat of arms. Prior to his throne, he was captain of m crown, polnym Queen Crown, Grand Marshal of the Crown and the Crown a great standard-bearer. Called by the Turks "Lwem Lechistanu", and by Christians "Obrońcą Wiary".
Jan III Sobieski
"With the grace of God king of Polish, Grand Duke of Lithuania, Ruth, Prussian, Mazovia, żmudzki, inflancki, Smolenski, siewierski in czernihowski ".
Bruno Schulz
Bruno Schulz (ukr. Bruno Schulz), born 12 July 1892 Drohobych year in the family of assimilated Jews of Galicia - was an outstanding prose writer of Polish-Jewish, schedules, painter, rysownikiem, and literary critic. Shot in the so-called. "czarny czwartek" 19 November 1942 Drohobych year at the intersection of contemporary street Mickiewicz and Czackiego by a German officer during the Nazi occupation. For the most important literary achievements of Bruno Schulz are two volumes of short stories: "Cinnamon Shops" and "The Sandglass".
George Kotermak Drusianus
George Drohobych (ukr. Yuri Drohobych), George Kotermak sometimes Drusianus or Georgius Drohobicz.
Born about 1450 year in Drohobych - Ukrainian philosopher, Astronomer, astrologer, and the first Ukrainian Doctor of Medicine (degree). George was his name Drohobych, his real name was "Kotermak" (ukr. Yuri Kotermak). He studied at the University of Bologna, Italy, where he later assumed the position of professor and rector. He was also professor of the Cracow Academy (now Jagiellonian University), and author of the first Ukrainian, printed works in Latin, "Magistri Georgii Judicium prenosticon Drohobicz de Russie". He died 4 July 1494 in Krakow.
Ivan Franko
Ivan Franko (ukr. John Y. Franco) - Prominent Ukrainian poet, writer, translator, slawista, as well as social and political activist. He was born in the family village blacksmith in the village Nahujowice (ukr. Nahuievychi) near Drohobycz. Between 1951 – 2009 village bore the name of Ivan, Frank. Obok Tarasa Szewczenki, Ivan Franko is considered one of the most prominent representatives of Ukrainian political thought and literature. Ivan Franko wrote over 5 thousands of items of bibliographical, and his poetry is characterized by an enormous wealth of topics and unprecedented in the literature of the Ukrainian variety of forms. Ivan Franko was sick for Syphilis / Syphilis (Lat. read, syphilis), died in 28 May 1916 in Lviv. Stanislavov, city ​​name, which was called by the Crown hetman Andrzej Potocki in honor of his father Stanislaw Potocki Rewery, in 1962 year, during the celebration of the 300th anniversary of the founding of the city, was changed to Ivano-Frankivsk (ukr. Ivano-Frankivsk ) in honor of Ivan Franko. Lviv University, and Drohobycz State Pedagogical University, also bear out the name "the name of Ivan Franko". Currently, "Earth Drohobych", is called the "Land of Mason" (ukr. Land Kamenjariv), named it as, Also in honor of Ivan Franko and his famous revolutionary song "Stonemasons".
Omelian Stocki

Omelian Stocki (ukr. Omelyan A. Stotsky) - Born 15 August 1894 year, in the village Bohutyn (ukr. Bogutin) in the vicinity of the then Kingdom of Zlotshev Galicia and Lodomeria, priest in the family.
Outstanding Ukrainian Scientific Activist, educator, mining engineer, oil and gas and founder of the resort Schidnycia. He graduated from junior high schools in Lviv, There also studied at the University of Lvov, after which he majored in German philology. He participated in World War I, participated in the battles, went to an Italian prisoner of war after. After World War II, completed by the 1926 year National Science and Wiertnicza Schools in Boryslaw, was an engineer in Borysław gazoliniarni, and then Schidnyci. Through its activities the oil and gas industry, said the region, has been "pulled out of the ruins" and the fall. In 1956 year, after leaving for retirement, Stocki Omelian starts looking for sources of mineral water in this area. Attached to the quest of scientists from the University of Lvov and Lvov Medical Institute. Initially the authorities were not interested in exploration, bureaucratic barriers impeded the study for approximately 20 years. Considered the 38 sources of mineral water.
Thanks to medical expertise and experimentation, implemented by the Lviv Medical Institute, proved, that the source № 1, 3, 4, 5 in Schidnyci, are useful to treat urological disorders in a row. Thanks to the initiative Omeliana Stockiego, began a series of geological, performed 17 deep-water drilling, which resulted in the foundation of the resort. 3 November 1977 year, USSR Ministry of Geology, Stockiemu Omelianowi presented the "Founder's Diploma of resort".
He died Omelian Stocki – 10 January 1979 year in his beloved city - Schidnyci. Currently spa, kurort, types of urban village is called: "Balneologiczny resort in the. Omeliana Stockiego – Schinnycia". In a small building, which has been renovated by the chief medical sanatorium "Schinnycki Krarpaty" (ukr. Skhidnytsia's Karpaty) Zenowij Krajczyk (ukr. Zinovy ​​Kraychyk), museum was founded, devoted Omelianowi Stockiemu. Collected numerous artifacts, documents and personal belongings of this very ambitious and entrepreneurial people. Among the exhibits there are numerous documents relating to the thirty-year bureaucratic battle with the camera Omeliana Stockiego ruling - in order to recognize the healing properties of mineral water from local sources.
ARTICLE TAGS
COMMENTS TO THE ARTICLE
YOU CAN LEAVE THE FIRST COMMENT
AND START INTERESTING DISCUSSION

About Site
NieznanaUkraina.pl
For trips to Ukraine we wish
happy reading about Ukraine, We encourage you to actively comment! About page
Comments
SEARCH
ON WEBSITE
To see the contents of the, Click on the relevant section below:
You can receive information about new articles on email:
Subscribe to our newsletter by mail on FeedBurner
POPULAR
Articles, that read the most times
WHAT CAN BE TRANSPORTED BY ...
: 157,094
UKRAINIAN LARD: SAŁO..
: 78,167
UKRAINIAN CIGARETTES AND YOU ....
: 71,338
BY TRAIN VIA UKRAINE: ...
: 61,111
NATIONAL SYMBOLS OF UKRAINE
: 57,471
UKRAINIAN LANGUAGE and ALPHABET
: 57,318
POLAND - UKRAINE BORDER
: 42,843
EXCHANGING CURRENCY IN UKRAINE
: 38,563
THE PURCHASE OF RAILWAY TICKETS ...
: 37,058
BEFORE YOU TRAVEL
: 31,821
HOLIDAYS IN UKRAINE
: 31,108
MOBILE IN THE UK..
: 30,736
FAMOUS UKRAINIANS
: 29,017
A TRIP THROUGH MEDYKA : 1ST...
: 26,445
CRIMEA : AUTONOMOUS REPUB ....
: 26,136